How Top Scientists Use Twitter to Support their Research - Webinar Recording
---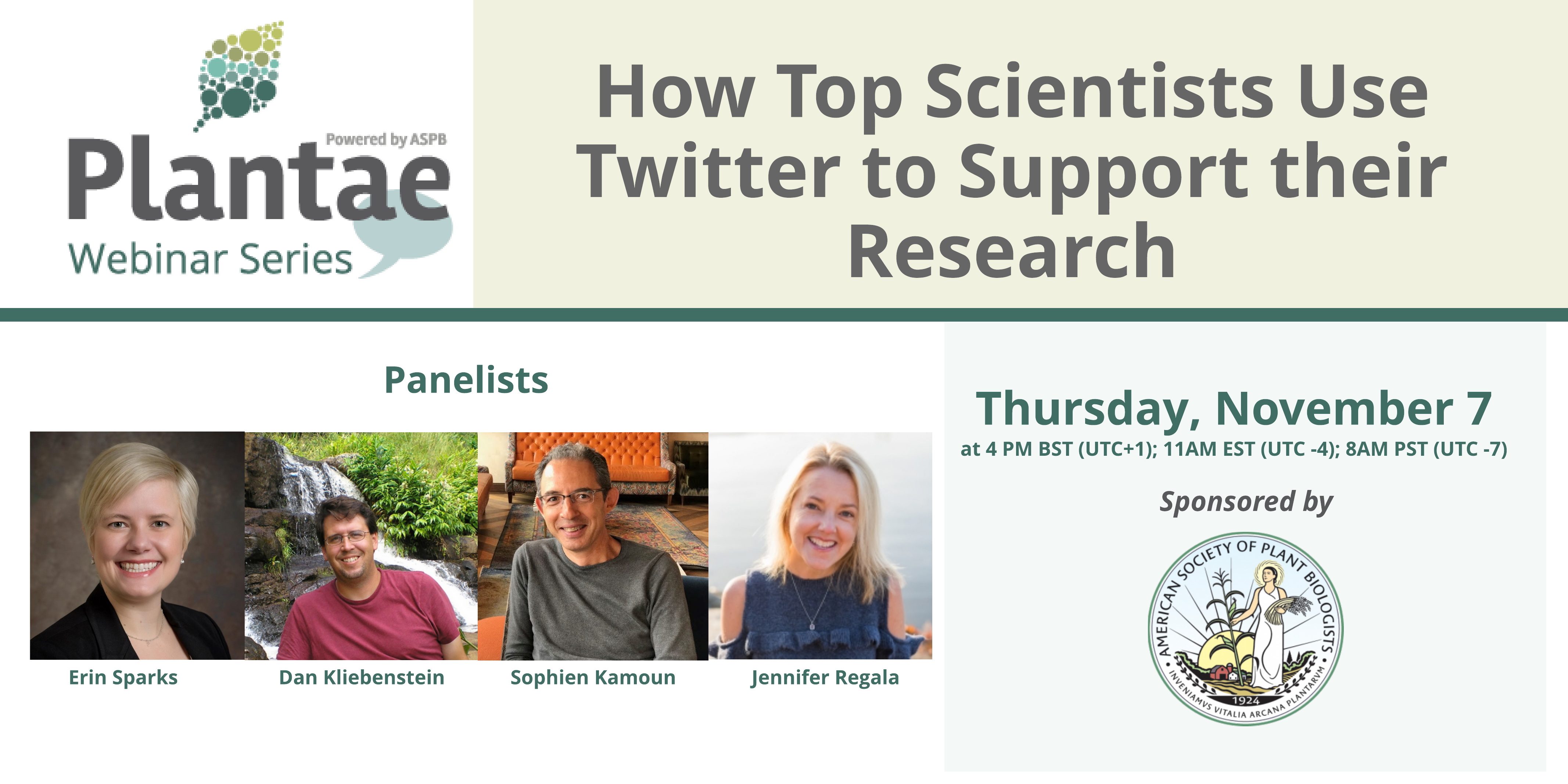 Scientists are increasingly using social media as vehicles via which to communicate with other scientists and with the public. Social media platforms also provide excellent opportunities to build professional networks, learn about opportunities, and develop a sense of community.
This webinar is the second in a series about social media for scientists. In this webinar, our panelists will share tips, stories, and insights about how they use Twitter to connect and collaborate with other scientists
Panelists, Erin Sparks, Dan Kliebenstein, Sophien Kamoun, and Jennifer Regala will address the following questions, and more:
How and why did you get started using social media for science communication?
People who are reluctant to engage with social media often cite concerns about time demands. How do you fit it into your schedule, and how does it impact the time you spend on other tasks?
Have you been harassed (or "trolled"), and if so, how did you deal with it?
Cost: Free to all participants thanks to the support of the American Society of Plant Biologists.
Twitter Handles to Follow

Follow webinar comments and questions on Twitter with #PlantaeWebinar
Questions contributed by our audience:
Does the number of people you follow and number of followers you have really matters in terms of getting reply from peers?
Is it okay to DM a scientist on twitter for an internship opportunity.
Do you have a conscious social media strategy? Or do you just post and follow as you feel like?

How much time do you spend per week/ per day on Social media? Is it addictive?

Should it be mandatory to devote resources and training to young scientists on communicating their knowledge, as well as generating it?

Who are your favorite Tweeters?

Would love to hear about: what kind of tweets get the most traffic/ interaction?

How do you balance tone in terms of being both friendly and professional?

Why some PIs choose to have "xyz_Lab" account and others use just their name? Is it considered more "proffesional" to use a lab account?

How do you share it with humility like a positive brag?

Do you have any additional questions? let us know in the comment section below.