Bio
Kathryn Parsley is a Ph.D. student in the Biology program at the University of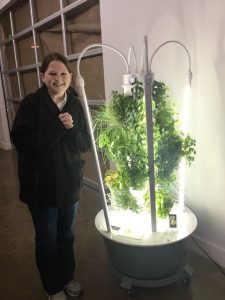 Memphis. She earned her B.S. in Biology from Cameron University in Lawton, OK and her M.S. in Biology from Texas State University in San Marcos, TX. Her master's degree focused on developing a lecture and lab curriculum about invasive species and testing its effect on student knowledge of and attitudes toward invasives. Her current research interests include developing instruments to measure plant awareness disparity and botanical literacy in undergraduate biology students, as well as using decision-making exercises and causal maps as classroom scaffolds to support students in increasing botanical literacy and decreasing plant awareness disparity. You can learn more about her work at www.kathrynmparsley.com
Career Status:
Graduate Student
Research Areas:
Education and Outreach
Publications
Parsley, K.M. (2020). Plant awareness disparity: A case for renaming plant blindness. Plants, People, Planet. Early View (Online).

Leone, E. A., Salisbury, S. L., Nolen, Z. L., Idema, J. L., Parsley, K. M., Stefanik, K. L., & Daniel, K. L. (2019). Identifying the breakdowns in how students and faculty interpret course objectives. Bioscene, 45, 16-23
Waliczek, T. M., Parsley, K. M., Williamson, P. S., & Oxley, F. M. (2018). Curricula Influence College Student Knowledge and Attitudes Regarding Invasive Species. HortTechnology, 28(4), 548-556.
Volunteer Activities
Manuscript Reviewer, Autism
Manuscript Reviewer, The American Biology Teacher
Cochair, Social Media Committee for Scholars in Training Special Interest Group, Society for the Advancement of Biology Education Research
Founder, Committee for Inclusion and Diversity in Science at the University of Memphis
Founder, Biology Graduate Student Journal Club at the University of Memphis
Member, Research Symposium Committee, National Association of Biology Teachers
Member, Social Media Committee for Scholars in Training Special Interest Group, Society for the Advancement of Biology Education Research
Proposal Reviewer, National Association for Research in Science Teaching
Proposal Reviewer, National Association of Biology Teachers